Tips for How to Wear Metallic Lipstick
If you're a woman who's been trying to figure out how to wear metallic lipstick, then this blog post is for you. In the following paragraphs, we'll share some tips and tricks that will help you rock your new favorite trend. First of all, it's important not to use too much product – you want just enough so that the color shows up on your lips but doesn't look overdone. A couple of other simple ideas are adding a little gloss or lip balm over the top to add shine and keep your lips moisturized. And lastly, when applying these kinds of colors, it can be helpful to line your mouth with liner first before filling in the rest. This way, there won't be any mistakes, and they won't bleed.
The best way to wear metallic lipstick is with a subtle lip liner that matches your skin tone. This will help you avoid looking like an overdone clown. Then, pair the look with neutral eye makeup to balance out the bold color on your lips and gloss for extra shine.
Metallic lips are so on-trend
Metallic lipstick is a popular trend in the beauty industry, and it can be hard to know how to wear it. With so many shades available, sometimes you need a few tips on what will look good with your skin tone. Here are some tips for wearing metallic lipstick:
Pick a color that matches your skin tone.
Go for an opaque shade rather than one that is sheer or matte.
Apply lip balm before applying the metallic lipstick because this will keep the lips hydrated while also giving you more control over how much product you apply and where you apply it.
Make sure your lips are moisturized before applying any lip product (especially if it's matte) because dry or flaky lips could look patchy in photos. Try using a sugar scrub every night to exfoliate dead skin cells from the surface of your lips, and then use a rich balm before bedtime. This should keep them smooth and hydrated all day long.
Start with a matte base before applying metallic lipstick. This will help prevent any streaking or smudging and will give you an even application throughout the day.
Use lip liner underneath the metallic shade so that your lips stay defined without looking blurry or smudged throughout the day.
Consider adding eyeliner as well if bolder colors seem too much for daytime use.
Wear metallic lipstick without looking like a cyborg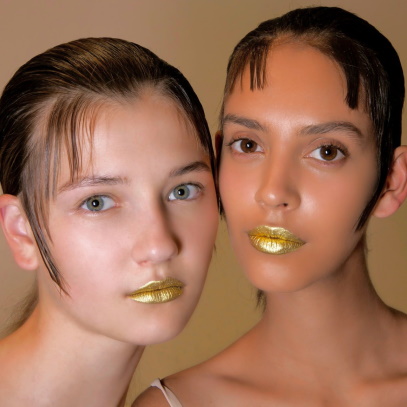 Metallic lipstick is a hot trend this year. Metallic makeup has been around for decades, but the formula and product types have changed over time to reach new levels of popularity in today's beauty industry. To wear metallic lipstick successfully, there are a few things that one should consider when choosing which metallic shade to wear.
The best time to wear metallic lipstick is during the fall and winter seasons. This look can be paired with a casual outfit or an evening gown, depending on your preference. There are several types of metallic lipsticks available in the market today, including long-lasting liquid matte lip color, velvet matte lip cream, and satin finish lipstick. Here are some tips for wearing metallic lipstick this season.
If you're looking to try out metallic lipstick for the first time, here are some tips that will help you. Metallic lipsticks are all about making a statement and being noticed! You can wear it with or without other makeup, but keep in mind that your lips should be well moisturized before applying.